;
---
Tucker Smith
by D. "Darteo" Sommese
West Side Story somehow captured the imagination of the all people I knew in High School. The songs became part of my particular group of friends. We sang them everywhere and we still do whenever 2 or more of us find ourselves together. We snapped our fingers and imitated the the Jerome Robbins choreography as best we could. I can not tell you how many times we sang and acted it all out shamelessly in private and in public places. Even the shyest among us, got caught up in the act. Who could resist brilliant the Leonard Bernstein score. It is still a part of me. I remember when the bunch of us took the bus into New York City from the suburbs of Sayreville, N.J. to see it when it came out as a Film. We weren't city kids by any means, but still it spoke to our generation in some way. The story, a reworking of Shakespear's Romeo and Juliet, of course is timeless. I can still watch it enthralled. The color, the cinematography, songs, and the dancing, still make it excellent film-making.
I will rent it once in a while. I am always amazed how well it holds up. Over the years, working in Hollywood I have had the occasion to meet most of the cast members. I never missed a chance to tell them about all my friends way back when in N.J. who knew not only every word to every song, but also large snatches of dialog as well. I got to sit down with Rita Moreno once between takes of the "Nine to Five" TV series, she was staring in at the time. Ms. Moreno is a class act, no matter what she is doing. I was so excited to be sitting at the same table she was, I could barely speak. I confessed my love for the film and the score. It was a wonderful moment for me. I told her I saw the film 11 times when it fist came out. I told her about my group of friends and how much we all loved the picture. She was not surprised, and from what she told, me we were not the only group of friends who loved the film in that way. How wonderful for her to have such a tremendous performance captured on film.
I can not think of West Side Story without remembering my friend Tucker Smith. He played the character named "Ice" in the film. We worked together for years. I met him doing "background" acting work, in the late '70's. I was a bit in shock when I first saw him on the set doing the same work I was doing. It is not the natural trajectory of film a career. You may start out doing background acting work, but it is not where you would normally want to end up. We all have to eat, and after all, background acting is an honest living. Some of us just have the greasepaint in our blood and need to be connected to the show business.
Tucker had fallen on hard times career-wise, and was using some connections to pay the bills. I'll never forget it. We were on locations at a Robinson's men's store on what was known as Miracle Mile, the once hot shopping district in Los Angeles. After seeing West Side Story 11 times, I was sure I recognized him. I walked up to him, in complete awe, to ask him about it. It turned out we had mutual friends and I worked with him for years as a stand-in on the TV version of Private Benjamin and a few other shows. Over the years he had lots of time to tell me some of the behind the scenes gossip concerning the film. I sat there enthralled most of the time. I loved hearing these stories.
The West Side Story production made quite and impact on the people who made the film as well, many coming over from the stage production to do the movie. The cast members have all remained friends till this day. At the end of the season on a TV show, they have what they call a "wrap party" for the cast and crew, with food music and dancing. On one particular occasion I was out on the dance floor expressing myself, and one of the best compliments I would ever get, would be from Tucker, who had really seen the best dancers in the business. He made a special point to come over and tell me how much he enjoyed my "work" on the dance floor. I could have melted. It was obvious he wasn't just bullshiting, because long before he walked over to tell me how much he had enjoyed my work, I could see the look of admiration on his face as he watched me do my stuff.
Someone told me once that you have to be "thick skinned" to make it in show business. It is a game of how many disappointments can you endure. Talent, is the key, but hard work is really what wins the war. That thick skin is often needed to protect a tender inside. Tucker was a tender soul. He told me much of his life story over the years. He drank so much at one point, he had the delirium tremors, complete with seeing snakes and crawling insects. I still can not imagine him going through this. There is not a person who knew Tucker, who didn't love him. He was just that kind of a guy.
In 1989 Tucker contracted an rare form of cancer of the jaw. No one knew what caused it. Perhaps the years of alcoholism took it's toll. It effected his ability to swallow. His throat would dry out and make it hard for him to speak. Drinking straight olive oil was the only thing that would help. There was an outside chance he could be treated at a special clinic in Germany, if he could get the money together for the trip and the treatment. His friends in Hollywood rallied to his side. The the cast of West Side Story and other friends living in Hollywood, threw him a benefit at a small theater in Burbank.
The show was more like a reunion than anything else, a group of old friends performing for one another. This was show business at its best. Often the competition and even the back biting takes center stage, but this was a matter of the heart, as old friends came together to help. I felt privileged just to be among them, but I paid a heavy price just to be there. By this time I had moved to San Diego. I had an agent down there who was giving me work. I had interviewed and gotten a commercial. At the last minute the day the commercial was supposed to shoot was shifted to the day of the benefit for Tucker. I explained to them the serious nature of my commitment, but neither the agent nor the producer of the commercial had any sympathy for me. I was given an ultimatum, but chose to go to Tucker's benefit. I not only lost the commercial, but lost the agent as well.
Still to this day I feel it was worth it the price. As it turned out, it was actually the last time I would ever see Tucker. Most of the cast of West Side Story was there, some of them having become directors and choreographers themselves. The theater was so small that we were all bunched together in the audience. I was rubbing elbows with my idols. The people there were all veterans of Broadway and the Hollywood musical, consummate professionals. They were old friends entertaining each other.
The stage was bare, curtains on the back wall, hung there in an unspectacular way. The lights were hastily arranged and added the requisite magic and sparkle. There was an old grand piano especially tuned for the occasion, pushed to the front of the stage. The piano player was relaxed like they always are. He seemed to know every song. The wardrobe was casual rehearsal type clothes, worn like only a seasoned performer can wear them. The line between the stage and audience was blurred, as performer shouted to old friends in the audience, or visa versa. It was a party where people dug out there best bits to show their friends. Sometime the emotion was just too much to bare and voices cracked. There were no secrets here. They had all seen the best and worst of each other over the years.
No matter how bare the stage and unspectacular the scenery, there is magic in a darkened theater when the performer believes in what he or she is doing. The pounding piano became a full orchestra as the performer and the piano player became one. To quote and old song: "There something about giving out with a song, makes you belong, make the day go by O.K....." I could cry whenever I think of that day. Tucker sat in the front row. Every person performed only for him. It is what show business should be about, and for me it only happened once like that in the 35 years I have been involved with it.
At the end Tucker got up on stage, his jaw was swollen and made his face looked lopsided. His throat was half closed, from the cancer. He looked like death itself. It was painful to see him like that. I know I was not the only one frightened by it. He was so brave. He told us how optimistic he was and how he was going to "fight this thing", and of course thanked us all for being there.
As incredible as it sounded at the time, Tucker told us that he wanted to do a song for us all. He had his bottle of olive oil there which he set on the piano. He explained to us all, how sipping it helped him swallow. He could barely speak, I could not imagine how he was going to get through a song. Everyone in the audience was a startled as I was, but there was so much love in the room at that moment, there was nothing we would not do for him. If it meant sitting there through a lack-luster performance, we would all do it with a smile.
I'll never forget the look of confidence on his face as he smiled and gave a head nod to the piano player, who began the introduction. It was then that something magic happened. This is not hyperbole. I am sure I was witness to a bit of show business magic. I don't know if someone shifted the lighting in some way, or it was just a small miracle, but Tucker became transformed. The look of death, so apparent a minute ago, faded. He brightened, not only with a smile, but he seemed to glow from the inside, as well. He was buoyant and alive, with the energy and presence that I am sure Jerome Robbins must have seen in him, when he first chose him for his role in West Side Story. He was young again! There on that stage, in the tiny theater, Tucker gave the performance of his life! He didn't waver or falter. He "sold" that song like the expert performer he was. He was given one last rousing hurrah. I could not believe it. It was truly a miracle of over coming an obstacle. The applause almost brought the house down. We all went absolutely wild. Did I say that there was not a dry eye in the house?
As it turned out, that was the last time we all saw Tucker alive. The doctors in Germany said they could do nothing and no one could convince them to try. I called one day to see how he was doing and they told me he was gone. I hate getting news like that on the telephone. Gone indeed! He may be gone, but he's not forgotten. I think of him all the time. I know he laughs at me sometimes from up there in heaven. He got such a kick out of me battling windmills. How could he be gone? There he is as big as life one that screen, in the prime of his youth, singing the Jet Song and dancing with all his friends. How lucky he was to have such a great performance captured on film.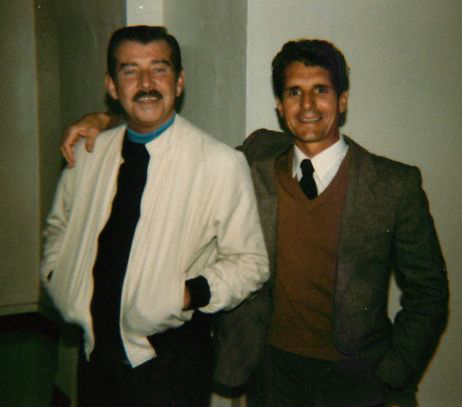 ---
Click the underlined titles below to read other selections from HOLLYWOOD STORIES.


"Consummate Professionals"
"Marilyn Monroe's Birthday"
"Your the Tops"
"Tucker Smith"
"Wrap Party"
"HOME"
Copyright D. "Darteo" Sommese 2017
---
My e-mail address:
darteo@yahoo.com