;
---
Wrap Party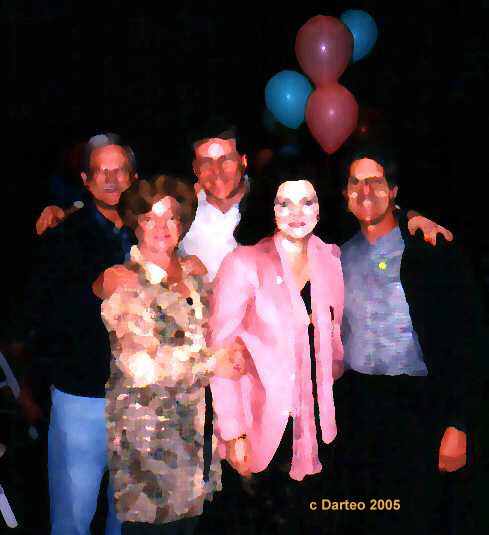 by D. "Darteo" Sommese

Los Angeles looks good in the movies, but anyone who has lived somewhere else and then took up residence in L.A. will tell you it is vastly overrated. You would think that a Hollywood Party, at a four star hotel, just oozing movie stars, would be exciting. Let me tell you something. Movie stars are only exciting when the camera is rolling and Hollywood parties look best on celluloid. In reality most of the people in this town don't have the slightest idea how to have a good time. They just aren't happy enough.

The wrap party is a special kind of party. It is normally held at the end of a picture, or the end of a season, or the end of many seasons after the last episode is put in the "can". This particular party was for a TV show that was number one on television for 10 years. This is a long time to hold the number one slot. Yes the people were supremely talented and worked very hard, but as party goers they were a complete flop. I have a personal axiom: "The bigger the star, the larger the dud". Hollywood parties in the 1920's are legend, but after 20 years of living and working in Los Angeles, I can tell you, that for the most part, a Hollywood party is an exercise in tedium. A wrap party teaches you the meaning of the word, "anti-climax".

I had taken so little interest in the this particular show's farewell party, I had no idea that it was being held at the Ritz Carlton in Marina Del Rey. This is one of the poshest places in Los Angeles. I knew it was in Marina Del Rey, but I thought they rented a restaurant or Yacht Club or something. The Ritz Carlton is a whole other story. It is quite the elegant hotel on the water, the cheap rooms are $300.00 a night.

Everyone, including myself, was dressed to kill. Sherry was on time to pick me up. She wanted to get there early, so we could get a good table. Everyone was on time. All seemed to arrive at once. Sherry who told me that one of the reasons she was inviting me,(aside from our being life-long friends,) was because she wanted someone who would not need to be introduced over and over. (I had worked on the show for the last two seasons.) So she ended up introducing me to everyone. Sherry and I were very old friends, former regulars from an other long running TV series called "Love Boat".

I was the 15th cousin at the wedding. I really didn't belong there, even though I had worked on the show on a semi-regular basis. The show worked for ten years. People who work together on any production work on an average of 14 hours per day. They end up spending more time with their fellow crew members than they do with their own family. The bond among them becomes quite strong. Some were very kind, but there are always those insecure souls who will constantly let you know how thin your connection is.

Sherry could have done better than I, in the trophy date department. In the Hollywood caste system I had lowest of the low stamped all over me. I after all was only a background actor. No high-end bash was going to change my status in the pecking order. Sherry's friends were cordial to me, because of Sherry's position of being the Star's stand stand-in for the past nine years. They were being kind to Sherry, not me.

There must have been 250 people there. We all congregated in the hall in front of the grand ballroom where dinner would be served. There must have been seven or eight portable service bars to handle drinks for the excited crowd. Everyone one was very lively. I shouldn't wonder, the moon was just a day past full, the night was balmy and the moon reflected on the water, casting a shining path between the rows of yachts tucked in their slips for the night. The Tequila and water on the rocks I ordered, had quickly gone to my head. I had been painting all day and didn't take the time to eat very much.

I figured Sherry would get caught up talking to all her cronies, which she did. I got caught up in talking to mine, which boils down some of the people I worked closely with in the background. There are about 15 other background actors there who worked in the office set. Which was different from the set the my character was associated with. The background actors who worked on the office set, just didn't talk to the people on the set I worked on. We all worked on the same show, but somehow they felt better than the rest of us. It is the weirdest thing, or should I say the pettiest, but pretty typical of the film business. With this in mind, I knew going in, there would only be only about five people and their dates, who might return would return my conversation.

I could tell by the looks on some faces some, people were pretty shocked to see me there, including the Star of the show. You could see them all wondering how the hell I got invited. I loved it. You can't be too thin skinned in this business, because by reading faces like that, there is always the danger of getting your feelings hurt. I didn't care about anything but getting something to drink at that point. I was so thirsty I went for another Tequila and soda, which was a mistake. I drank it a little too fast and started to see double. I got that floating feeling, along with that "I don't give a shit about anything" feeling, which can be bad for the career. I looked around the room, and all I could see were empty faces, speaking empty words.

I checked the crowd occasionally to see what Sherry was up to. She found me when they were calling us in all in to dinner, which was like a game of musical chairs. People maneuvered in the most desperate way to sit at the most prestigious table, according to their "station" of course. I have to say that for all Sherry's planning we did not excel in picking the "in-est" of tables. Somehow we ended up with a table of leftover strangers. This was fine for me, but Sherry after nine years, definitely deserved better.

The ballroom was perfect, fabulous would be a good word. There was plenty of room for the large round tables. The crystal chandeliers put the stamp of elegance on the whole affair, not to mention the flower arrangements on each table, which must have cost a couple of hundred dollars each. There was a large portable stage and the band started playing as soon as we got in there. The music was excellent, this was no wedding band. Through the course of the evening the fifties Pop chart greats, appeared on this stage. Names like the Sherelles and the Drifters came out to do their act. It has all the makings of a fabulous night on the town.

The head of programming for CBS TV was the master of ceremonies. He came to praise only star of the show it seemed. He gushed all over her. She was definitely queen of the prom, but where would she be without her fabulous supporting cast? He asked our forgiveness for any names he might have forgotten which seemed to be the entire rest of the cast.

There were two huge screens on either side of the stage. Promptly the traditional blooper reel began to play. The blooper real is a time honored tradition with wrap parties. One of the film editors puts together all the funny flubs and mistakes called "out takes" on one long reel. It was hilarious really and worth all the bullshit a person of my station as to put up with just to be there. They compiled some of the funniest moments of the entire ten year run. I laughed and smiled so hard my face hurt. For about 20 minutes the room was united in laughter and it felt good. Sherry pointed out that I flashed by in one of those out-takes which added to my prestige a bit. It happened so fast I really didn't notice. I just tell you these things to let you know the crazy game that this movie business is. Some of the thinking is so irrational. It all means squat, really.

All those holding an invitation got a sort of yearbook with stills from the past ten years. They had descended on the female Star of the show to sign their year book. She did that all night. I don't think she got to eat a morsel of food. She was a real trooper and stood at the unplanned receiving line all evening. I have to admire her for that. But I couldn't help remember what a "pill" she was all season. The background actors were ordered not to look at her, and for godsakes NEVER talk to her! She had a body guard that followed her around like a shadow. She had people fired for daring to try to talk to her. I wonder if she realized what a prima dona she had turned into. It is always a wonder to me how people who make a living by being "looked" at, can forbid their co-workers from doing just that. Go figure.

I walked by Lily Tomlin and she gave me a happy "Hey You" hello. This woman is a class act, far removed from her piers in the business. She made it a point to always treat me with dignity on the set. My only regret is that the Hollywood caste system made it impossible for me to really joke around with her, because you know she would be a lot of fun. I only had time to give her a quick hello in return, because all the "professionals" at the party were doing something I never like to do. They all wanted her to stand next to them for a photo. She may have been hoping I would rescue her from that in some way. But my head was spinning wildly now. A long conversation was definitely out of the question. Beside, after being forbidden to talk to the principle cast members all season, I figured, "what's the point?"

Sherry had run off and I was left completely alone at the table. Some very hungry people had begun to partake of the sumptuous feast spread out on the buffet tables that lined one side of the room. It was all very elegant with flowers and silver serving things. I was having that "floating" feeling.I knew I needed food, so I just started without her. Being a vegetarian, all I ever get to eat at these things is salad bread, potatoes and vegetables. They mercifully had some goat cheese there and I was able to at least get some protean in my meal. One by one, my table mates trickled back as I finished my meal at a full table.

The entertainment and the dance floor were first class, but no one was dancing! What's wrong with these people! This is a party for cricesakes! Those people talk with each other for 14 hours a day and all they wanted to do was talk more! The Sherelles at one point said into the microphone, "People we are up here", trying to get the crowd to listen. The finest entertainment going was being rudely ignored. As per usual I grabbed Lilian and we were the first couple on the dance floor, which started some other people dancing, but in general the turnout on the dance floor was pathetic. The Drifters played, most of their set to an empty dance floor and people's backs. Reading faces again, I could see they were not pleased with the reception they were getting.

Movie workers are jaded and rude, show business is not what it used to be. Imagine ignoring the Drifters and their first class act. Most people were just not interested. The music and musicianship was so excellent I could not keep myself from dancing, I remembered that Gail, a fellow old timer like me, and in terrific shape, liked to dance. We danced together most of the night and had lots of room to do anything we wanted. She was thin and light on her feet, so dancing was a pleasure. I was hoping I would see the cast and some of the big wigs get on the dance floor, but they were all too cool or had disappeared into another room, to have a private party away from the rest of us. The caste system again. I guessed the majority of people were schmoozing for future work. They just can't help themselves.

The place had started to clear out around 11 O'clock. How pathetic was that? This was a Hollywood party on a Saturday night, in a fabulous ballroom, with the world's best entertainment and it was breaking up at 11 PM! I get angry just thinking about it. The band was disgusted and quit at midnight. They had been ignored and even snubbed by fellow professionals. It was inexcusable, but so typical.

Sherry started to say good bye to people, but they were either too drunk at this point to care, or just too shallow and uninterested. No one cares about manners in the movie business. On our first 2 attempts to say good-night we were practically ignored. You end up feeling like a complete idiot. For Sherry this was the end of a nine year run. Disgusted, she said to me, "Should I just leave? I said, "Yeah lets go, nobody will know the difference or care." So we just left. The moon was hanging over the sparkling water. The boats rocked gently in their slips. The night was picture perfect. For me it was a notch up from spending the night on the couch watching TV. I knew what to expect and I was not disappointed. How often to you get to dance to the Drifters and the Sherelles.

Sherry and I had taken two cars, so she would not have to go out of her way to drive me home. She had been very kind to me over these last two seasons. It was because of her own pull that I ever got to work on the show in the first place. She stuck her neck way out for me. I gave her a long and tender bear hug, neath the light of the silvery moon. I would love her no matter what. With all the bullshit you have to wade through in Hollywood, I felt real fortunate to have come across a gem like her. To me, she was the real star of that show and I got to be her date for the evening. There are no friends, like old friends. A good friend in Hollywood is worth more than gold or seeing your name in lights.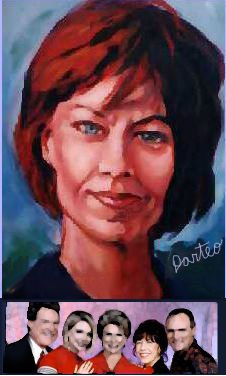 Other Selections

from Hollywood Stories:
"Consummate Professionals"
"Marilyn Monroe's Birthday"
"Your the Tops"
"Tucker Smith"
"Wrap Party"
"HOME"
copyright D. "Darteo" Sommese 2017
---
My e-mail address:
darteo@yahoo.com